January 13, 2018 (Dresden, GER) – The USA's Sophie Caldwell charged through a traffic jam of Swedes to finish third in a photo-finish at the women's 1.2km FR city sprint in the historic city of Dresden, Germany along the banks of the Elbe river.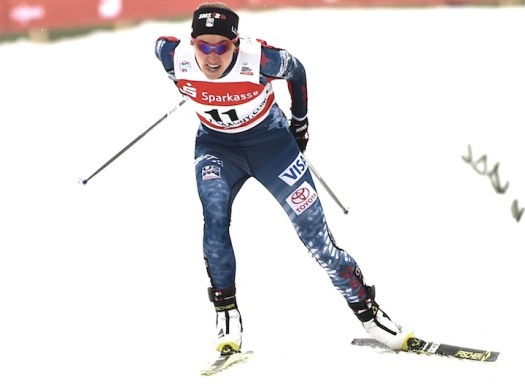 Sweden's Hanna Falk took control early in the final and held on for the win – it was her first World Cup victory in eight years. Her teammate Maja Dahlqvist claimed second for her first ever World Cup podium.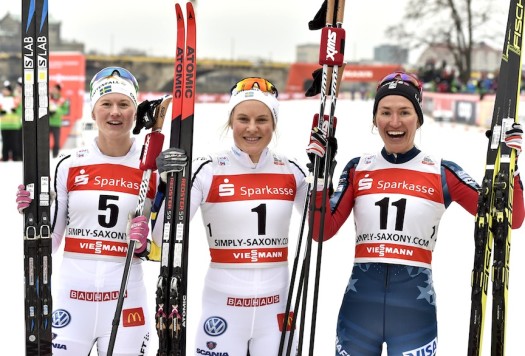 "I was really happy with today. It was a course unlike any we've ever skied before being the flattest and shortest race I've ever done," Caldwell told Trax. "It was important to get in a good position from the beginning and I did a decent job of that in my quarter final and semi final, but got off to a bit of a slow start in the final. I tried to stay patient and make moves where I could."
One of shortest and flattest sprint courses ever, the Dresden track was an all out sprint from start to finish. Stina Nilsson (SWE), the overall sprint World Cup leader, fell in the final just ahead of Caldwell who got around Nilsson safely and joined the leaders.
"The crash happened right in front of me, but I managed to avoid it and then put in a big push to maintain contact with the leaders. My energy felt good all day and I'm looking forward to some team sprinting tomorrow," added Caldwell. The podium moved Caldwell into third in the FIS World Cup sprint rankings.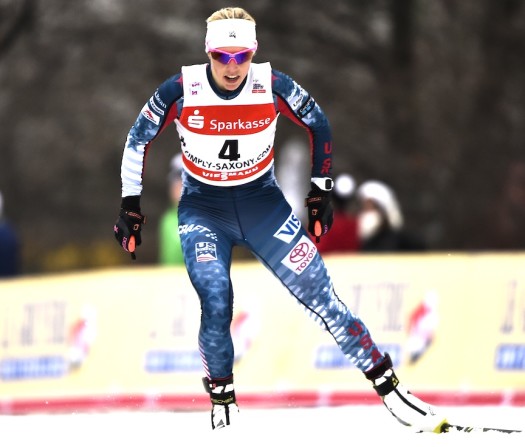 Sargent qualified 14th but did not advance past her quarter final.  "The course is completely flat and it was really fast today.  I normally like hilly courses so I tried to think of it as a challenge and mix it up with something different. I was happy with my qualification. In my quarterfinal I got a fast start and led most of it but skied the icy finish lanes poorly and lost places there. I'm happy with my shape and looking forward to racing the team sprint tomorrow," said Sargent.
Triple Sprint Cup globe winner, Kikkan Randall, qualified 34th and did not advance to the heats. "Course was fun and set up nice and fast. Fun to race next to the river. Coming off the last month at altitude and not so much fast skating, I wasn't quite on point today.  My body felt good and my foot was not a factor, just need to get the feeling of skiing fast again. Looking forward to a fun team sprint tomorrow," shared Randall.