December 05, 2017 (Lillehammer, Norway) – American Jessie Diggins claimed a stellar 5th in the women's 15km Skiathlon on Sunday showing her fine form as Sweden's Charlotte Kalla took home her first-ever World Cup Skiathlon victory. Norway's Heidi Weng as second with her teammate Ragnhild Haga in third.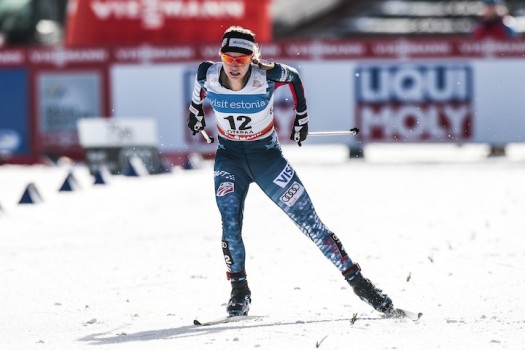 The USA's Sadie Bjornsen had a strong day finishing 10th while Kikkan Randall was solid in 16th followed by Rosie Brennan also in the points placing 29th. Liz Stephen (USA) was 36th, Chelsea Holmes (USA) finished 38th while the top Canadian was Cendrine Browne in 45th.
"I was really happy with my race. Our classic skis were amazing and I honk that's the smoothest and strongest I've ever Classic skied yet. In the skate leg I felt good and I'm still working on building to my top race gear as we get into the season," shared Diggins.
"Another great day in Lillehammer – this was my best ever Skiathlon result in the 15km discipline. I tend to prefer classic skiing, so I wanted to try to stay in contact during the classic section, and hold on for the skate portion of today's race," commented Bjornsen. "At times I struggled to find gears but found my zone so at the end of the day, I was really happy with my race. The biggest WOW of the day was my brother, placing 20th in this very tough field of racers here in Norway."
Randall was pleased as well. "Another race under the belt. Had a good start but lost some ground on the first time up the big climb. Found a better groove in the second classic lap and felt much stronger in the skate. Underlying fitness feels strong but still searching for my full race gear. Great conditions, even saw a bit of sun out there," quipped Randall. "Really inspiring to see my teammates racing up there in the front.  Our skis were fast today so that wax truck seems to be making a nice difference."
Full results here.
Overall standings here.