January 28, 2018 (Seefeld, Austria) – The USA's Jessica Diggins was on a mission and delivered in spades as took home her first victory this season claiming the women's 10 km FR mass start World Cup in Seefeld, Austria, a test event for the 2019 World Chanpionships.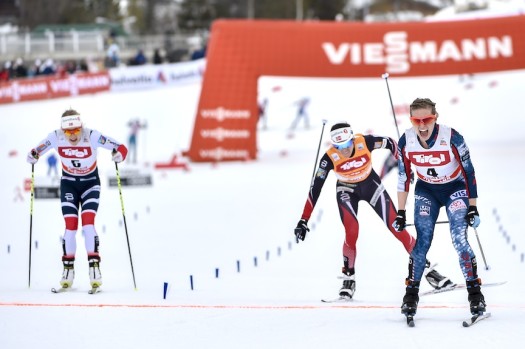 Norway's Heidi Weng, the World Cup leader, finished second with her teammate Ragnhild Haga in third. American Sadie Bjornsen placed eighth and Kikkan Randall was 14th for three skiers in the top 15.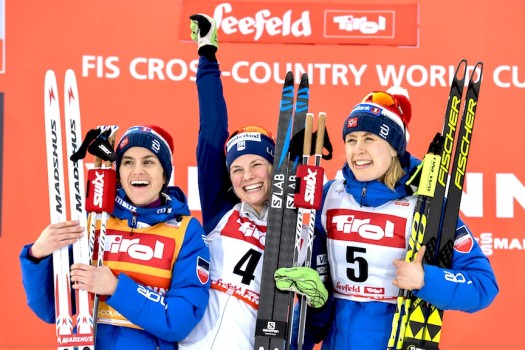 Diggins was impressive throughout the race testing her rivals but also sitting in before she made her decisive move on the final big climb as Cologna did in the men's race. Weng and Haga were able to close some of the gap that Diggins opened up over the final climb to make it close to the line.
"What a fun race," said Diggins. "Such a cool feeling, having the energy after sitting out Saturday's race to then make a decisive move on that final brutal uphill. It was a hard course on which to break up the pack. So I stayed near the front and out of trouble, taking my turn to pull but also saving some energy knowing that it would likely come down to the last few kilometers like the men's race did."
"Everyone wants to be like Dario," she quipped. "I was confident in my skis and how I was cornering the big downhill, so I just put my head down and went for it. It wasn't pretty but it worked."
Also in the points were Caitlin Patterson in 23rd and Liz Stephen in 29th. The top Canadian was Emily Nishikawa in 35th with Cendrine Browne 37th, Dahria Beatty 45th and Rosie Brennan (USA) in 53rd.
Bjornsen's eighth place finish was a career best in a 10k freestyle. "It was an exciting, and super fun final race before the Olympic Games. The 10k skate was hot from the start, on a really fun course here in Seefeld. I think this my best distance skate race ever…plus I got my brother by one spot, which is a daily competition for the two of us. He set the bar high this morning. I am just so excited to see how well he did, and Simi as well. Those two have a bright future for the team sprint," said Bjornsen. "Our team is on fire and the vibe is great. Win or lose, I think this team is going to do something great! Now, let the Games begin."
For Randall it was a solid weekend. "A GREAT weekend for the team and a decent weekend for me. Yesterday's sprint was okay.  I was happy to qualify 18th on a short and fast course.  Had a good start in my quarterfinal but didn't ski tactically aggressive enough coming into the final climb and didn't have space to utilize my full climbing power.
"I had a good start in the mass start but got stuck in a train at the end of the 1st lap and I lost touch with the lead pack. Our team is just skiing at an incredible level right now. The wax truck has certainly been a confidence boost for us this year as well as  providing such a better working environment for our staff. Now looking forward to another good week of training before we head into the Olympics," commented Randall.
Nishikawa loved the courses and feels good with the Games around the corner. "The courses in Seefeld are really fun. They will be great for the Championships next year. Today's race was pretty good, although I didn't have a great start, I need to work on navigating through the mass start a little better to get myself in a better position. I felt much better when I was had more to move around and the second half of the course was really good for me.  It is a good feeling as I head into the Olympics. We stay in Seefeld until Thursday when we fly to Korea.  I'm excited for what's to come!
Diggins echoed the impact the new US wax truck is having and the awesome team support . "I had awesome skis today, and our techs did such a good job! We had some absolutely killer cheering out there as the Men's Downhill team came out in full force. I can't believe how awesome it was to hear them yelling on the side of the trail," added Diggins.
Results here.