March 11, 2017 (Kontiolahti, Finland) – The USA's Sean Doherty had his best performance of the season hitting all 20 targets to move up 26 places in the men's 12.5km pursuit. Doherty finished 18th overall at 1:19.5 off the pace of Germany's Arnd Peiffer who shot clean as well for his first win of the season and second career pursuit victory.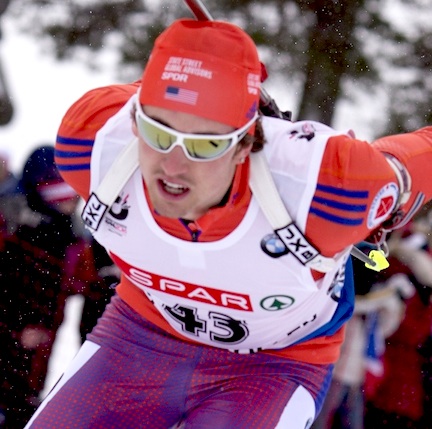 Austria's Simon Eder, with two penalties, was second, just 0.3 seconds back. Norway's Emil Hegle Svendsen, also with two penalties, took the last spot on the podium at 2.3 seconds back.
"I am extremely happy with the race today," said Doherty. "To have such a great race after a tough start to the season makes today extra special."
Lowell Bailey started in the 16th position and moved up to 12th after cleaning all 10 targets in prone. However, three penalties in standing pushed Bailey back to 27th at the finish, 1:57.2 behind.
"I was having a decent race until that last two shots," Bailey said. "Sometimes you just miss. Congrats to Sean on his first four-stage clean World Cup. Great performance."
Leif Nordgren cleaned the opening prone stage but suffered four penalties at the next two shooting stages to place 44th at 3:24.4 back.
Women's 10km Pursuit
American Susan Dunklee placed 14th in the women's 10km pursuit suffering four penalties. Dunklee started in fifth position at 35 seconds back of Friday's sprint winner Tiril Eckhoff of Norway.
After cleaning from the first prone stage, Dunklee found herself in third place, 14.6 seconds back of Eckhoff and 12.3 behind Germany's Laura Dahlmeier. However, two penalties in the second prone stage pushed Dunklee down to 13th place and two more misses over the final two stages prevented her from cracking the top 10. She finished 1:02.8 back of Dahlmeier who won for the 10th time this season, with a single penalty in 29:54.4.
"I struggled with changing wind conditions a bit in the second prone," said Dunklee. "My other three stages all felt good. No one feels fresh at this point in the season. I certainly don't. The challenge is tricking your tired body into wanting to race anyway."
France's Marie Dorin Habert was second at 16.5 seconds back with two penalties. Italy's Lisa Vittozzi notched her first career podium in third place with one penalty at 19.9 seconds behind Dahlmeier.
The USA's Clare Egan finished 45th at 3:24.7 back with four penalties. Joanne Reid also had four missed targets on the range and placed 52nd, 4:07 off the winning pace set by Dahlmeier.