December 16, 2017 (Annecy-Le Grand Bornand, France) – American Susan Dunklee took home a 6th place result in the women's 10km Pursuit on Saturday in Annecy-Le Grand Bornand at round three of the BMW IBU World Cup. Dunklee missed two targets but turned in a fast final lap to make the flower ceremony.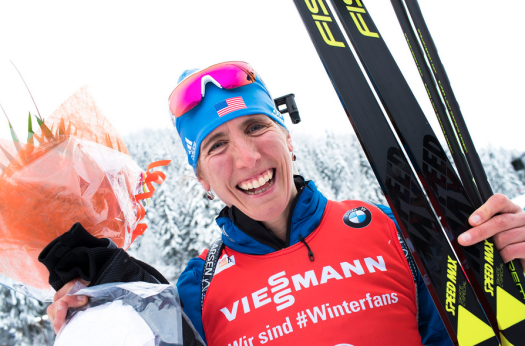 Laura Dahlmeier of Germany captured her first win of the season winning the Pursuit with a single penalty at 14 seconds ahead of Thursday's sprint winner Anastasiya Kuzmina of Slovakia, who had four penalties. Third place went to Italy's Lisa Vittozzi, also with one penalty at 31.8 seconds back.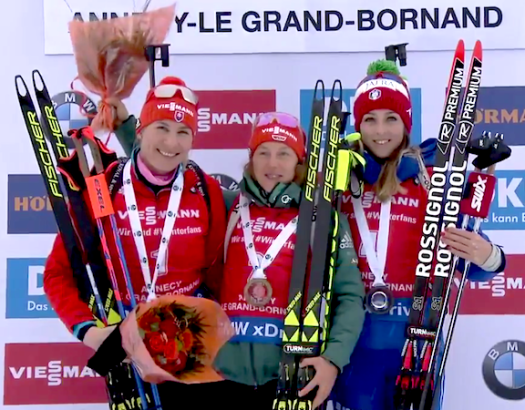 "Today I just tried to be patient and save a little bit for that last loop," added Dunklee. "The course is extremely narrow and there's fresh snow from last night so the skied-in track in the middle is the fastest. I had particular points that I had in mind before the race where I'd try to make a move if I could."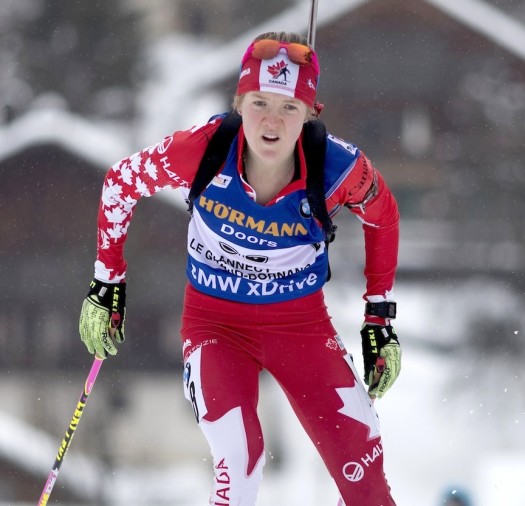 Canada's Emma Lunder had a solid day finishing 18th with one penalty while her teammate Julia Ransom finished 27th suffering two penalties. Rosanna Crawford was a DNS.
Dunklee, Lunder and Ransom qualified for Sunday's Mass Start. "The mass start is one of my favorites, so I can't wait," said Dunklee who won silver at the Worlds in the event. "I was a little demoralized after Hochfilzen as I had 20 percent shooting there. This is helping me get my confidence back."
Results here.