March 04, 2017 (PyeongChang, South Korea) – American Susan Dunklee had another strong showing on Saturday at next year's Olympic venue, placing 5th in the women's 10km pursuit competition. Germany's Laura Dahlmeier was perfect once again, skiing strong and shooting clean to claim the gold medal in 1:12.6 over silver medalist Kaisa Makarainen of Finland.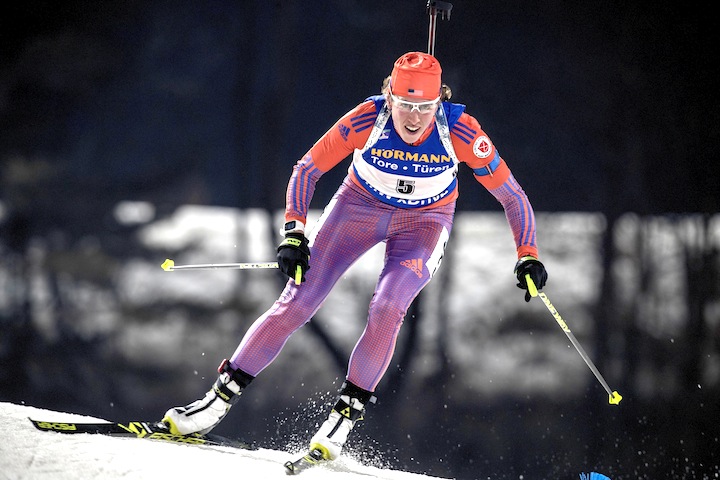 Makarainen has two misses on the range, both in the first standing stage, but skied fast to move up from her 4th position at the start. The bronze went to France's Anais Bescond, who missed only one shot and skied well to move up from 8th. Bescond crossed the line at 6.3 seconds behind Makarainen.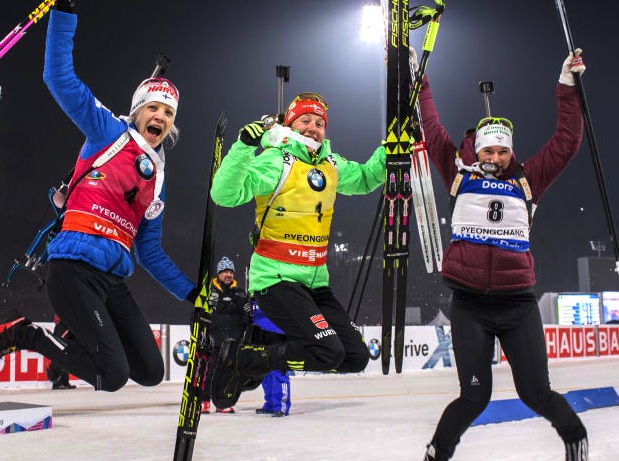 Coming into the last shooting stage, Dunklee was still in the medal hunt, but after missing her last shot she was relegated to a battle for 4th with Norwegian Tiril Eckhoff. Eckhoff who ultimately edged Dunklee at the line by half a second. "I missed that last standing shot…that was a bummer," said Dunklee.
Talking about her last lap, Dunklee commented, "Honestly, that last hill on the steep section, that's the best I've felt all season, attacking on the last loop, I was able to dig into that sprint or jump-skate mode for that last pitch. That was a good feeling, I've missed that."
"It wasn't a bad performance, but it didn't feel like a good performance, either. I've got to be really happy to get a top five with three misses. I'll take that," she added. Dunklee had the second-fastest shooting and range time, which helped her maintain her position despite her three misses on the range.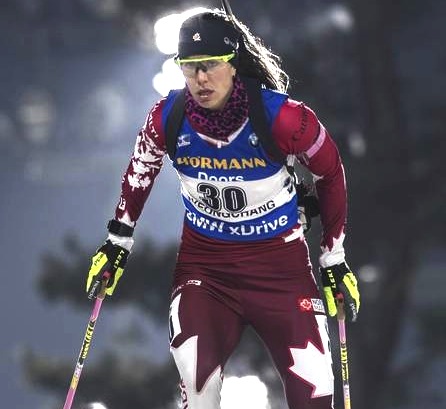 Canada's Rosanna Crawford had a great day on the tracks, moving up from 30th to finish in 19th (+2:49.1), with two misses coming in the prone shooting stages. Crawford had almost called it a season after a disappointing world championships.
"I had some long talks with my coach about continuing on the season," said Crawford. "I really wanted to go home right away, but we decided it would be good to see the Olympic venue and that we needed a fourth woman to take part in the relay. So I was feeling really drained and frustrated by the end of World Championships. But a bit of time away from the team, where I got to enjoy just skiing and seeing a new part of world, really helped bring my mood around."
Crawford's teammate Megan Tandy also cracked the top-30, finishing 30th after starting in 39th. She finished at 3:26.2 back with two misses as well on the range. Also skiing for Canada, Julia Ransom finished 44th (+4:18.4) with four missed targets while Emma Lunder was 49th (+4:49.6) with two misses.
Skiing for the USA, Clare Egan moved into 16th position by the halfway point of the race, but missed three targets in her first shooting stage. She ultimately finished in 36th (+3:41.9). After the race Egan said, "I have some work to do on staying calm and focused on the shooting process, rather than the potential outcome when the race is going well for me. That distraction certainly played a role in my misses today, as I was in sight of the top 10 when I came into shooting three."
Joanne Reid, America's third qualifier for the pursuit, finished in 52nd (+4:53.4) with five misses on the range.