October 23, 2017 (Sovereign Lake, B.C.) – The snow has been blanketing the ground on and off for 10 days and the staff at Sovereign Lake packed and track set approximately 5km of skiing last weekend. What does this mean? Winter is around the corner and it's time to dig out the winter gear, the wax kit and, of course, get ready for your trip to XC Supercamp.
If you haven't registered yet for your Supercamp experience, now is the time, camps are almost full and registration may be closed on some as soon as Monday.
Register here for your XC SUPERCAMP experience!
Biathlon Camp:
Nov 24-26 & Dec 1-3
New this year: Biathlon Camp is over 3 day camps, Friday – Sunday. Biathlon Camp participants ski with their Supercamp group in the morning to improve their technique and then go to the biathlon range in the afternoon.
Click here to see more!
Pro Camp:
Pro camp is back by popular demand and improved with a new program structure! If you have racing experience and are looking to enhance your understanding of training and racing, this camp is for you! The goal is to improve your efficiency, power and prepare you to race on the Master's or Loppet circuit.
Camp Dates:
Camp 1: Nov 20 – 24
Camp 3: Nov 27 – Dec 1
Camp 5: Dec 4 – 8
New this year:
Wild Women's Camp: Dec 4 – 8
Enjoy your nordic experience in a fun, friendly, female-focused environment. Spend your mornings on skis improving your technique, and then relax in the afternoons with wine & yoga, a strength and conditioning session, and other exciting extras.
Click here to read more!
7 day camp!
Are you flying in to attend XC Supercamp?
Make the most of your trip and attend Supercamp Monday to Sunday with a special 7 day price.
Click here to learn more!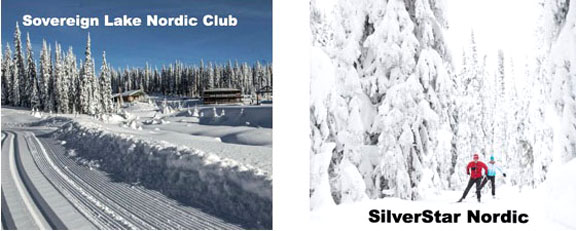 Keep up with news on the conditions at SilverStar and Sovereign Lake.
Click here to link to Soverign Lake Nordic Club and here for SilverStar Nordic's conditions and trail reports and follow or bookmark those pages!
Receive a booking code for 20% off Accommodation at Silver Star Mountain Resort when you registered for XC Supercamp.
Don't wait! November is the month of Nordic at Silver Star so
book yours now
!