Welcome to round #2 of the new SkiTrax Roundtable featuring top Canadian and American skiers as they talk shop on some interesting, fun topics this Olympic season. Check out their replies to our second question: "What's the craziest / funniest thing that's ever happened to you as a cross-country ski racer ?"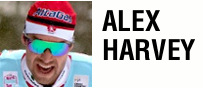 One of the biggest challenges for us on the road is to find access to a washing machine. Some places (Davos, Val di Fiemme, Kuusamo) we have hook-ups and it's super easy, we can do it ourselves, but some other places it's either impossible or just crazy expensive.
In Oslo you pretty much need to take out a mortgage to get them to wash your clothes at the hotel. So here's the story. After asking around to many people in Oslo, one morning right after breakfast, I ended up giving a giant bag of dirty laundry to the one-and-only, Marit Bjoergen.
I went for a ski, came back to the hotel, had lunch and then as I walked away from the buffet, I saw Marit walking in the hotel lobby with a giant pile of clean, freshly folded clothes. Not only is Marit the best XC skiers that ever lived, she's one of the most generous people I know.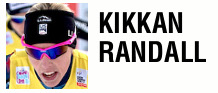 Over the last 20 years that I've been competing full-time, I think one of the craziest things that ever happened to me was breaking my back in a cross-country ski race called the Flattop Flyer. I have to admit that the Flattop Flyer wasn't a typical cross-country ski course. It began up in the mountains above Anchorage and descended about 1,500 ft down into one of our main Nordic trail systems. While mostly downhill, the course included a few uphills which warranted Nordic skis vs alpine equipment, with the final 5km on normal ski trails. It was an end-of-the-season fun race and included roller jumps throughout the course and a special prize for the best costume.
In the spring of '99, I was competing in my 2nd Flattop Flyer.  Hungry for one of the good prizes, I was really letting it fly on one of the open downhill sections. I came over a rise and unexpectedly encountered one of the roller jumps. I lost my balance going off the jump, my feet went out from under me and I landed hard on my backside several meters down the trail. Immediately my whole back tensed up and the wind had been knocked out of me pretty good. I laid there as help arrived. I was later carried off the course on a backboard and got an ambulance ride to the emergency room. I remember being upset that my ponytail was pressing into the back of my head while strapped to the backboard.
Later diagnosis showed four compressed vertebrae in my mid-back and a cracked rib. Fortunately, being 16 at the time, my bones were still growing and I was able to make a full recovery after wearing a full back brace for six weeks. I got really lucky that the fractures in my vertebrae slid away from my spinal cord and that I didn't suffer any lasting effects from the accident.
Unfortunately, after my accident they canceled the race. It was probably on the edge of being a little too risky on Nordic skis. Regardless, I still like to have fun going fast and taking jumps on my Nordic skis!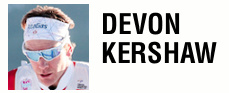 The first international trip I ever went on with the Canadian Team was in 2000, so there are a lot of stories in the vault to draw from. That said, here is one that sticks out – it's more of a "type 2" funny experience that occurred back in 2013 during that year's edition of the Tour de Ski.
It was January 3rd and the experience in question took place during the "crux" stage of that year's Tour  – back when it was an actual Tour de Ski with some excitement instead of the declawed shell it is today. It was back in Canada's "salad days" of Tour de Ski team success, and coming into the day Lenny [Valjas], Ivan [Babikov], myself and Alex [Harvey] were all in the top 25 to start that day's Pursuit race.
The entire area surrounding Toblach and Cortina is out of a pre-war travel brochure. Towering, jagged orange-brown spires and summits in all directions and quaint hotels in the valleys below. We had been staying at one particular hotel for decades – Hotel Dolomiten – and that day began like any other. We sipped our cappuccinos and ate the stale white buns that are the signature of any Italian breakfast in a quiet hush. Even though we are the self-proclaimed loudest team on Tour, with such a Pursuit challenge looming, we were no doubt in our own heads. We were not only nervous for the inevitable pain that was sure to follow, but also the magnitude and importance of the stage. Back in those days, this was the race that could make-or-break one's overall ambitions.
The course itself was like no other race in the World Cup circus. Making use of an old railbed, a ribbon of snow connected the two Dolomiten towns. The organizers would lay snow through the village streets and we would start right in Cortina's picturesque town-square, racing past thousands of bewildered fans in furs cheering us along as we rushed towards the peaks in the distance. Quickly we would be out of town and then start to climb. Once that climb started, there would be nary a descent to rest your legs until you crested the summit plateau 17km later and began the descent into Toblach. Perhaps that's why we were quiet that morning.
As World Cup racers we are not used to having 17km of steady work – none of it steep by any means, but still – 17km of uphill skating before the first sniff of rest. For that reason, the stage had a reputation of being a bit of a gamble, and we all hoped that our legs would propel us up and over the working section without turning to concrete a few kilometres too soon, and thus conceding valuable seconds, or even minutes, to our rivals.
Back in those days, pre-Sochi – Canadian cross-country ski racing was in a very different financial position – we were flush with funding. It's flabbergasting to see the current burden on athletes who pay tens of thousands of dollars just for the opportunity to represent our country. Granted, we were coming off some incredible seasons and with the Sochi Olympics on the horizon, we were able to think outside the box and do some pretty novel things. One such project that head coach, Justin [Wadsworth] conceived of was making use of a "rock and roll" tour bus to aid in our recovery between stages of the Tour de Ski – taking inspiration from what each and every World Tour team uses in professional road cycling.
It was our third year rolling in style on the Tour, and while others had RVs and the like, we we were the only team at the time with a true "Team Bus" – a blacked out bus with our white CCC logo popping in stark contrast on the side. It was a both a luxury and an advantage – and in addition to using it traveling between venues, it became our "pre and post race lounge" – using it for team meetings, keep dry clothes, and to change out of our wet warm up clothing and into our race gear.
The plan was simple. Our bus driver would drive to Cortina early in the morning and park the bus as close to the race start as possible. Some hours later, Justin would drive us in a team van to Cortina from Toblach (25km or so) – stopping along the race-route so we could test skis and warm up on the race course. The plan was to finish our warm up at the bus about 15min before the race start, change into our racing gear and walk 2-3 minutes to the starting pen.
A little note about our bus driver, a Brit named Paul. To say he was in a dither to find himself in such an Nordic environment would be an understatment. Paul was a stout, bald, beer and football loving English man, and the world of cross-country ski racing was new to him. You could always easily pick him out of the World Cup service crowd – with his uniform consisting of a black leather trench coat, his unique gait, walking as if on the set of a " Guy Ritchie" movie and his affinity for the use of certain four letter words. He mainly drove touring bands around Europe, and was more used to having out-of-control Vodka chugging bands like "The Brian Jonestown Massacre" on board, instead of skinny, spandex-clad Nordic racers racing before 12 noon.
All was going according to plan. Sure, we were nervous – like before any race, but the ski testing passed without issue as did our warmup. Soon we were in front of our bus, parked in a bus-terminal type site on a terraced square above the start. Ivan tried to open the door to the bus, with us standing and chattering behind him. Locked. We tried again, this time with a little more gusto. Nothing. Alex, not believing that this was real life, gave it a college try. No luck. I started laughing. What else could I do? The minutes were rushing towards the future like water gushing over an abyss and there was no stopping it. After some panicked minutes, we realized our inescapable, profound truth: we weren't getting in to that bus. There was no way to get at all our dry clothing, race bibs, dry toques, gloves, gear, etc… EVERYTHING was stuck inside that bus and we had the most important Tour de Ski stage about to start with or without us.
We sprinted down the stairs and along the track to the starting pen. We were rattled of course, and the techs were trying to help us as best they could. I mean, Ivan didn't even have his racing suit (he tended to change everything prior to a race) and so like wild animals clothing was changing bodies – I distinctly remember Ivan taking training tights and a sweaty, baggy black Craft top right from Micke (Book – one of our wax techs)'s body. I did have my race suit on, but along with no dry clothing, toques, or gloves, I did not have my race bib with me (in the truck with all my other gear) – so I asked around for a Sharpie – and simply turned my training bib inside-out and wrote the number "22" which was my starting position in the pursuit on both sides (yes, we got fined for that and other "infractions" for the stage (racing without a race suit, etc…). We were all sweaty and wet from our warm up, but the Tour de Ski waits for noone, so we were committed to race with what we had.
It almost didn't seem real until Alex broke his starting wand – the 4th man out, knowing what he was racing in. A minute or two later, and with Ivan was starting directly in front of me, I was laughing uncontrollably in the starting lanes looking at my teammate in a pair of training tights two sizes too big and a oversized, sweaty long-underwear top covering his upper body – it seemed so ridiculous. Guys around us were laughing, and my training bib (which is oversized to fit over our warm up clothing) with the sharpied' "22" on it garnered some laughs as well. I just shook my head and broke the start-wand myself.
We all raced. We all froze up on the top of the plateau – seeing as it was a few degrees colder up there than down in Cortina and we had the wrong clothing – and in the end, Alex managed to finish 6th, I moved up surprisingly from 22nd to 12th and Ivan finishing where he started – 21st. Lenny got really cold – having no layers under his thin suit and fell from 13th to 23rd, but still finished in the big group I was in. I'll never forget those anxious minutes scrambling around outside that locked bus while tourists were looking on in bewilderment. The scene in the starting pen was just hilarious as we scrambled just to get to the start on time with whatever gear we had in close proximity.
Paul, meanwhile, was in a cafe 600m from the bus enjoying an espresso and reading the newspaper. He forgot to leave the bus open and all the while was within a few minutes from us the whole time. He might as well have been in Fiji.
Those are the memories that make me laugh and keep us entertained as we reminiscence over the dinner table swapping stories for months on end as we travel throughout Europe. Do I remember the race itself? Perhaps slightly. But I couldn't fill in the details of how I felt, what skis I used or how I managed the last few kilometres, but do I remember those 15min before the race? Oh yes, like it was yesterday.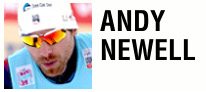 I think life on the road can be broken up into a few different categories. Travel, food, friends, and competition and after over 15 years on the road I feel like I could tell hours of stories on any topic.
With over 30 World Cups in over 13 countries we are bound to have some crazy travel stories from each season. For some reason my most memorable travel tales involve something going epically wrong. I've tried to talk airlines out of charging our team $10K worth of baggage charges coming back from Sapporo World Champs in 2007. After long negotiations in a language that nobody could understand they downgraded the charge to a few thousand.
Canceled flights, delays, and long travel days is something we all face. If I've learned anything over the years it would be that traveling by train around Europe is great. Traveling by train around Europe with more baggage than you can carry is the worst thing in the world. When you have two ski bags, a duffle, backpack, and a guitar you simply can't make a 2-minute connection traveling by train. If you can't carry everyone at once it can turn into the most stressful bag shuttle imaginable. I've learned the hard way on several occasions in Italy, Switzerland, and Norway and have missed connections and had the worst travel days trying to shuttle multiple ski bags in and out of trains before the doors close on you.
Food on the road can be interesting. Hands down the worst would be Russia. When we were flying to Sochi for the pre-Olympic World Cups we were on a charter flight with the whole World Cup caravan on Red Wing air. We were served trays with sliced cow tongue during one of the in-fight meals. The best food in my opinion was in Lillehammer, Norway.
Friends and the relationships you make on the road are probably the most memorable and fun parts of our sport. When we are traveling on the World Cup we stay in the same hotels as the other athletes, ski the same trails every day, and become friends over the years. My birthday always falls when we are at the World Cup in Kuusamo, Finland, and when I was turning 30 Ingvild [Flugstad Oestberg] and some of the Norwegian girls came into our condo holding candles and singing traditional Norwegian birthday song. It was a funny memorable moment.
Competition stories are endless. During this year's TdS, one stage we'll be talking about for a long time was when the Classic sprint was canceled in Oberstorf, Germany. Thunder, lighting, wind, pouring rain, banners being torn off the fences and flying across the course were part of the scene. Many of the guys just warmed up by running back and forth in the athlete tent and doing jumping jacks. We face some incredibly poor conditions on the World Cup because no mater what the show must go on for TV and the sponsors. We once raced a city sprint in Prague at the 2008 TdS where the organizers salted with the wrong salt and the snow was boot high sugar. So deep that even in a skate race there was a section of the course where athletes were double poling because it was the fastest way to ski through the soup.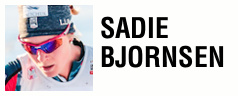 Life on the road can be pretty crazy. Living out of a suitcase for four months is quite a unique lifestyle – here are some of the silliest "behind the scenes" experiences I've survived.
1. Living out of one 50 pound suitcase for four months is almost 100% impossible. Throughout the season, we slowly accumulate more possessions, and we quite literally look like bag ladies as we move in an out of hotel rooms. One duffle bag, one backpack, one massive grocery bag of spillover, and one extra backpack that carries all your "one time, special use things" (cold medications, American coffee, snow boots, wind blocking long underwear layers, etc.)
2. Laundry is like war. The struggle to keep clean clothes is real. Since we never go "home", finding a place to clean our clothes once a week sometimes feels impossible. Once we do discover a machine, there is a collection of fifteen athletes, and ten staff fighting over the same machine…. the struggle is real. One time we were on a search to find laundry services in Norway, and the cheapest option we could find was approximately $80… sink laundry won that battle.
3. We are obsessed with feng shui. Most athletes don't like to sleep right beside their roommate. In Europe, most of the beds are twin beds that can be separated. As soon as we walk into the room, we find a way to separate the beds, and create the most "open space" in the room. We kind of move in as if it is our own. By the end of our career, we should all be professional interior decorators.
4. Every once in a while you receive a mid-February miracle. Even though we are packing and unpacking our items every single weekend, every once in a while, you forget about a treasure that was packed into a small pocket somewhere in your bag. Last week I found a birthday card that one of my friends sent me with, and a little gift inside. My birthday was on November 21st. That was a fun little late surprise.
5. You lose concept of what day of the week it is. As a racer, moving from country to country, hotel to hotel, your main focus is on the races. Everything operates around recovering and preparing for the next battle. Sometimes you get so invested in this mission, you forget about the world around you. Sometimes I feel like I can't even tell you what month, or what day of the week it is.